#NoTechForApartheid
Dear Friend,
The horrors of ongoing, escalating anti-Palestinian violence - perpetrated together by the Israeli apartheid government, military, and settlers - know no bounds.
Just in the past month, the Israeli military waged an assault on Jenin, including its refugee camp, murdering and displacing Palestinians in an attack that made clear the Nakba remains ongoing.
It is not only billions in both public and private funds from the U.S. that power the Israeli military and apartheid government. They are also powered by other key U.S. actors: Google and Amazon.
That's why on Wednesday, July 26, tech workers, community activists, and people of conscience like you will gather at Amazon's annual Web Services Summit to tell Amazon: "No Tech For Apartheid!"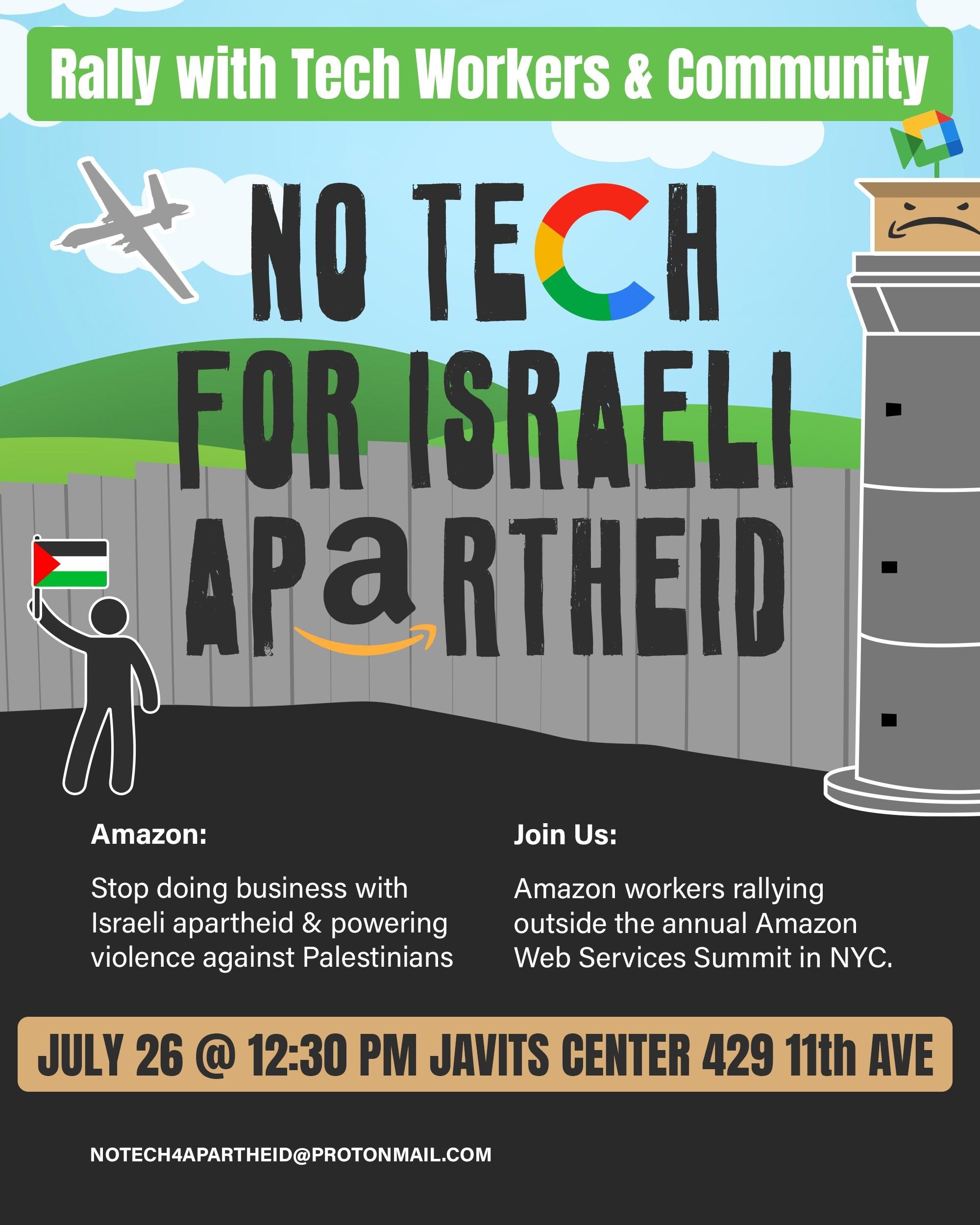 Since 2021, Google and Amazon tech workers, joined by over 50 human rights organizations, have been organizing together with the #NoTechForApartheid campaign.
They've been saying, loud and clear:
Tech workers do not want to build technology that could be used to expand mass surveillance of Palestinians; deepen criminalization of Palestinians; and further the ongoing Nakba, by helping to expand segregated settlements on stolen Palestinian land.
Amazon tech workers have been ramping up their organizing against Israeli apartheid, and need your support. Can you show up to rally with workers next Wednesday, July 26 at 12:30 pm at the Javits Center?
As we mark 75 years since the Nakba, let us show Amazon and Google that we will not stop organizing in solidarity together until Big Tech stops enabling the injustice and violence that began with the Nakba and that Palestinians continue to face to this day.