Anti-Defamation League CEO Jonathan Greenblatt equates anti-Zionism to white supremacy, claiming that "anti-Zionism is anti-Semitism"
Dear Friend,
American Muslims for Palestine (AMP) stands vociferously against the Anti-Defamation League's (ADL) assault on constitutionally protected free speech and the Palestine solidarity movement. This attack has one aim: shielding Israel from criticism of its war crimes and egregious human rights violations.
At the organization's National Leadership Summit on May 1st, ADL CEO Jonathan Greenblatt labeled human rights groups engaged in advocacy for Palestinian rights as extremists. Jewish Voice for Peace (JVP), the Council on American-Islamic Relations (CAIR), and Students for Justice in Palestine (SJP) are specifically named in the statement which outlines the ADL's forthcoming strategy to attack and undermine anti-Zionist groups across the US. We stand with our partners in the struggle for human rights.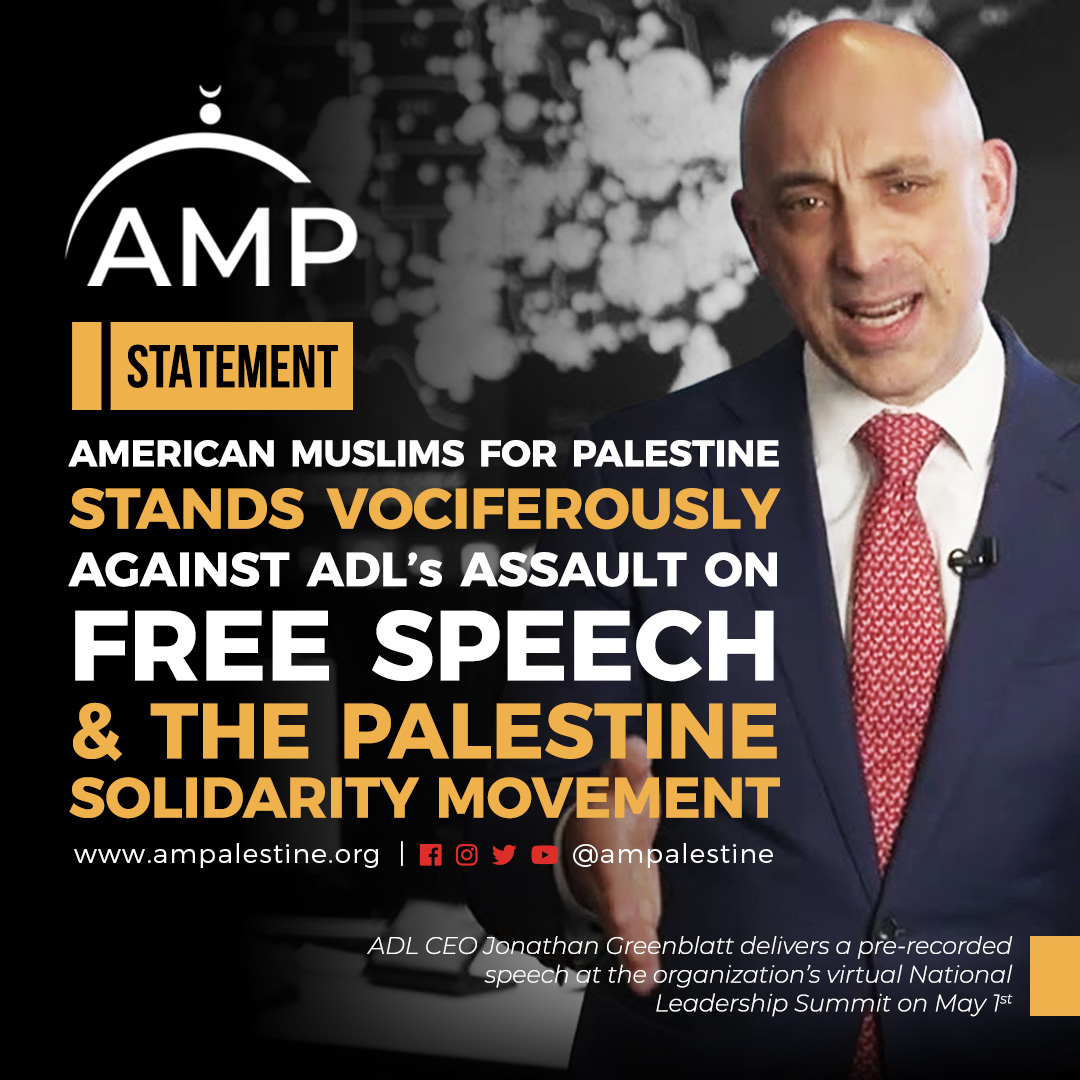 Why is the Anti-Defamation League waging a war against some of the most respected and well-established organizations for civil and human rights? These remarks from the ADL are part of the last gasp effort to challenge rising pro-Palestine sentiment in the United States, as well as an attempt to delegitimize the most basic of human rights advocacy.
"In a ludicrous and dangerous attempt to conflate anti-Semitism with anti-Zionism, the CEO of the controversial Anti-Defamation League, Jonathan Greenblatt, resorted to a series of lies, deceptions, falsification of facts, and attempts to rewrite history," said AMP Executive Director, Dr. Osama Abuirshaid.
In his speech, Greenblatt states, "To those who still cling to the idea that anti-Zionism is not anti-Semitism, let me clarify this for you…anti-Zionism is anti-Semitism…It is predicated on one concept, the negation of another people. It is a notion as alien to our modern discourse as white supremacy."
Conflating anti-Zionism, a concept that seeks to right the wrongs of dispossession, an ongoing occupation, and an internationally recognized system of apartheid, with white supremacy, the most significant domestic terrorism threat facing the United States, is laughable.
[Read AMP's report on ADL here - Published in March 2011]
The ADL has completely lifted the veneer of acting as a premier civil rights organization, openly and admittedly acting as Israel's stalwart and unconditional defender despite the damage it will inflict on Americans' civil liberties.
This fact manifested in its ugliest form at the height of the Black Lives Matter movement in the United States. While the organization was keen on not alienating civil rights organizations, elected officials of color, and Black Lives Matter activists and supporters, the ADL simultaneously looked for ways to suppress any criticism of Israel's racism and violations of international law.
"Zionism is a racist ideology that promotes the supremacy of white Jews over everyone else living in historic Palestine. At its core, Zionism is white supremacy. It only follows that defenders of Zionism such as Greenblatt would malign and attack those who seek to end white supremacy." - Dr. Osama Abuirshaid
Accusing American civil rights organizations and the border solidarity movement with Palestinian rights of representing 'the photo inverse of the extreme right,' is ridiculous. The truth, as described by the Israeli human rights organization B'Tselem, is that Israel, the mere embodiment of the racist Zionist ideology, is "a regime of Jewish supremacy from the Jordan River to the Mediterranean Sea."
This is exactly what is embodied in the discriminatory Israeli Jewish Nation-State law of 2018, which would easily inspire a white supremacist manifesto in America.
Dr. Abuirshaid continued: "Greenblatt's outrageous attempt to confine Jewish identity to adherents of Zionism, and to exclude Jews critical of it and Israel, as in the case of Jewish Voice for Peace, is another testament to the parallel between Zionism and White Supremacy."
Israel and its supporters observe that the tide is turning as public opinion shifts in favor of Palestinian rights and liberation. Greenblatt's announcement is further indication of the desperation within Zionist ranks in the US to salvage US support for Israel by attacking the human and civil rights community with disinformation, litigation, and top-down policymaking that will ensure the demise of those who criticize Israel; ironically, this is the same community that ADL claims to be a part of.
"The sun cannot be covered with a sieve, and a veil of falsity and lies cannot disguise the facts. No one is holding Israel accountable for its alleged Jewish character, but rather for its racist regime against non-Jewish citizens, and for its ongoing illegal occupation and brutal policies against the Palestinian people. Justice, freedom, and equality for all will reign, despite Greenblatt and the ADL's best efforts." - Dr. Osama Abuirshaid
[Learn more about the #DropTheADL campaign here]
AMP will make every effort to ensure the well-being and continued growth of the Palestine movement, a movement that continues to inch closer and closer to ending US support for Israel.